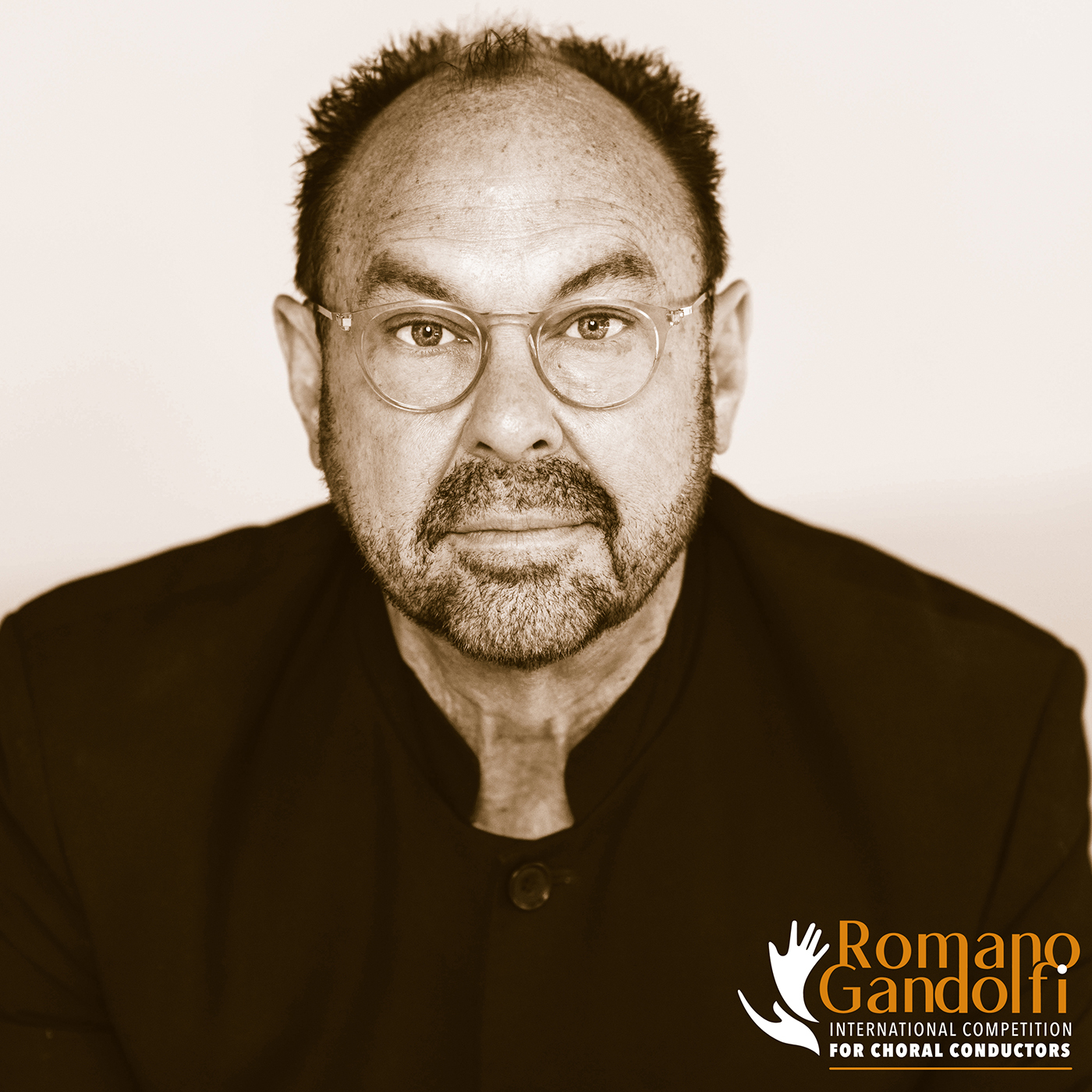 Tim Sharp – USA – President of the Jury
Tim Sharp – USA – President of the Jury
Conductor/composer Tim Sharp recently completed thirteen years as Executive Director of the American Choral Directors Association, the world's largest professional choral organization. Tim led ACDA to innovations that changed the course of this professional association for the 21st century. While in Oklahoma, Tim was Artistic Director and Conductor of the Tulsa Chorale, a 100-voice civic chorus performing the major choral repertoire of the choral/orchestral canon. Dr. Sharp remains on the Executive Board of the International Federation for Choral Music and the World Choral Council, representing choral music in North America. These associations havetaken him to six continents and to China over twenty-five times, performing and lecturing. To date Tim has authored 17 books, the most recent being Sacred Choral Music Repertoire: Insights for Conductors. Tim's writing centers around choral conducting pedagogy, but he has also written in the area of Tennessee music history with his three-part Arcadia Publications series Nashville Music Before Country; Memphis Music Before the Blues; and most recently, Knoxville Music Before Bluegrass. He has published over 100 choral compositions and arrangements, including his High Lonesome (Bluegrass) Mass for choir and bluegrass band, and Angel Band for choir and chamber orchestra. In addition to specializing in Early American/Late Classical era choral music, Tim is a five-string banjo player and Deering Banjo Artist, composing and arranging music that incorporates this African American original instrument. Dr. Sharp has conducted and performed the major choral/orchestral works of JS Bach, Handel, Vivaldi, Haydn, CPE Bach, Mozart, Beethoven, Schubert, Mendelssohn, Brahms, Rheinberger, Bruckner, Saint-Saens, Faure, Ravel, Britten, Vaughan Williams, Holst, Finzi, Barber, Thompson, and contemporary choral composers Christopher Theofanidis, John Tavener, Eric Whitacre, Morten Lauridsen, Karl Jenkins, Bob Chilcott, John Williams, Arvo Part, and John Rutter, who he works with on a regular basis at New York's Carnegie Hall. Further, he has championed and performed the contemporary choral music of Rosephanye Powell, Stacey Gibbs, Andrea Ramsey, Byron V. Smith, Joan Szymko, Jocelyn Hagen, Patti Drennan, and Chen Yi. A graduate of Bluefield University and Belmont University, Tim has received the outstanding alumni award from both schools. His graduate and doctoral work was completed in 1981 at The School of Church Music, Louisville, Kentucky, and has further studied at the Aspen Music School (conducting), Harvard University (musicology), and the University of Cambridge (UK) where he is a Life Fellow of Clare Hall. Before leading the American Choral Directors Association, Tim was Dean of Fine Arts and Director of Choral Activities at Rhodes College (Memphis), and prior to Rhodes was Director of Choral Activities at Belmont University. He has taught at the University of Oklahoma, Taylor University, and The King's College. He received Memphis Theater'sOstrander Award for his conducting of Puccini's Gianni Schicchi. He contributed the choral work for A Glen Campbell Christmas which won a Dove Award for Best Country Album and was nominated for a Grammy for Best Southern, Country or Bluegrass Gospel Album. The recording Come Away to the Skies with his professional ensemble Kentucky Harmony was nominated for a Grammy Award in 2020 in the category of Gospel Roots. Since returning to Nashville in 2020, Tim has been guest conductor of the Nashville Concert Chorale, is Artistic Director/Conductor of the Gateway Chorale, and is Music Director at Immanuel Baptist Church. He recently formed and prepared the supporting choir for the Eagles' "Hotel California" tour. He created and directs the Center for Community Arts Innovation at Trevecca University where he assists community arts organizations rethink and restart because of the recent pandemic and teaches conducting. Tim serves on the Executive Board of Choristers Guild (Dallas), and in January 2022 was named Principal Conductor and Executive Director of MidAmerica Productions, the largest producer of choral concerts at Carnegie Hall, New York City. With the exception of rehearsals and concerts, Tim works from his farm in Hickory Point (Montgomery County, TN), where he, his wife Jane, and their daughter Emma Jane take care of a small herd of cattle, goats, alpacas, chickens, two cats, a donkey, and their most recent addition "Darby", a four-month-old Labrador Retriever.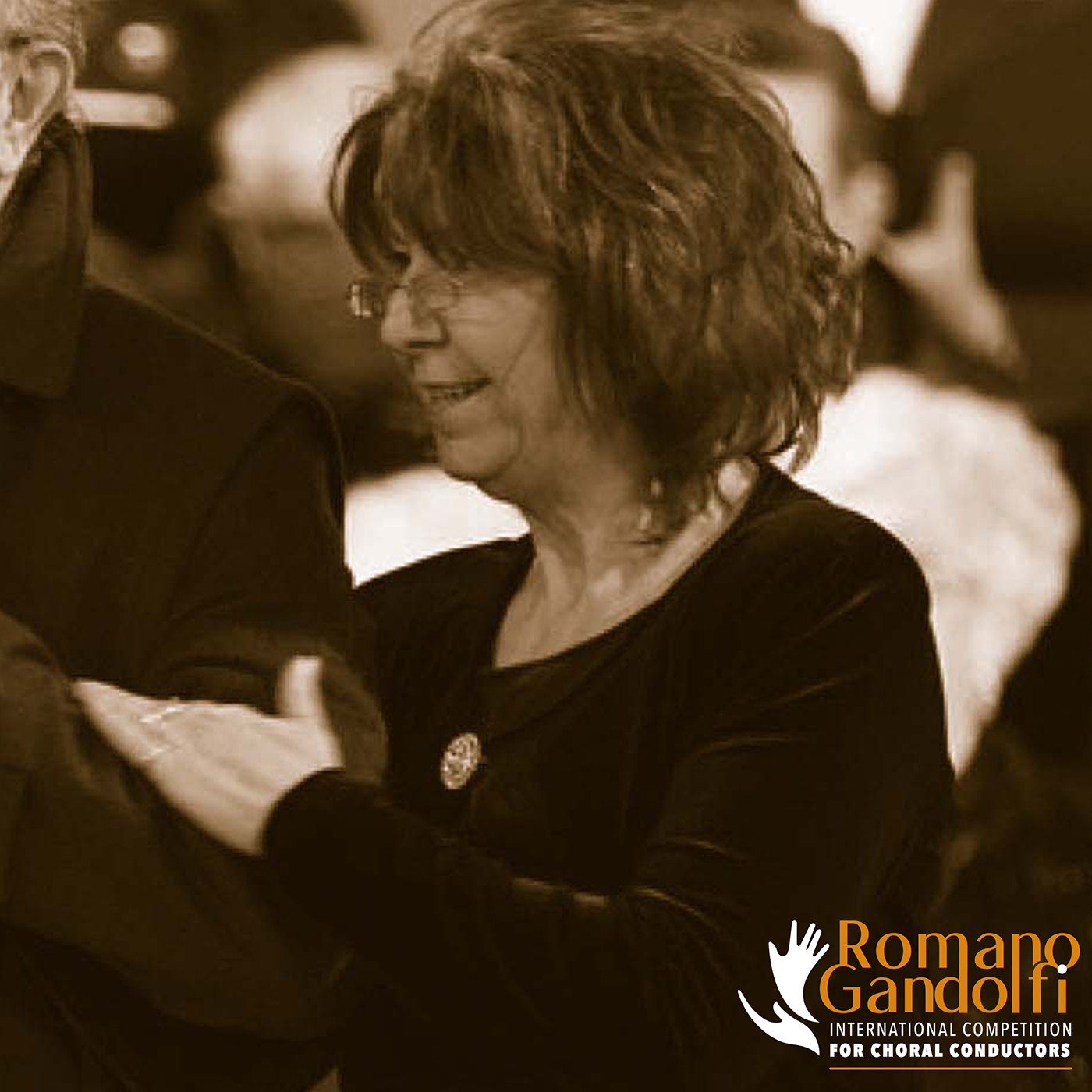 Marialuce Monari – Italy – Member of Jury

Marialuce Monari – Italy – Member of Jury
Marialuce Monari graduated in piano at the Conservatorio G.B.Martini in Bologna, where she also studied Fugue and Composition with Ivan Vandor and attended the Course for Master Collaborators held in collaboration with the Municipal Theatre of the same city. Since 2010, she has been teaching at the Conservatorio Arrigo Boito in Parma. She has been active as a pianist and chorister (under the direction of Adone Zecchi, Bruno Zagni, Pier Paolo Scattolin, Federico Salce, and Giorgio Magnanensi), winning prizes and awards in national and international competitions, touring Europe and making recordings. She has performed as a concert performer and researcher in a four-hand duo with pianist and historian Maria Chiara Mazzi, which has seen them engaged in the rediscovery of precious pages from the vast repertoire of 19th-century Musique de Salon, performed in churches and theatres throughout Italy. She has collaborated as music critic for the information, art and entertainment magazine Alla Ribalta in Bologna, dealing with the Opera and Symphonic Seasons of the Teatro Comunale and Bologna Festival – I Grandi Interpreti, and has written librettos for the opera houses of Modena and Cagliari. As an accompanist, she has accompanied, among others, the pianist Lorenzo Bavaj, the baritone Gastone Sarti, the soprano Anna Caterina Antonacci, and the bass Carlo Colombara. As a choir conductor, she first performed at the helm of Bologna's prestigious and centenary Corale Euridice and also for a few years, at the request of the Municipality of Bologna, she turned her attention to historical research and the revival of Emilia's popular repertoire, at the helm of the Villa Paradiso Choir. From 2002 to 2008 she taught Choral Practices at the Istituto Superiore di Studi Musicali in Reggio Emilia and as director of the institute's choir she worked alongside mezzo-soprano Sonia Ganassi. She collaborated with Maestro Mauro Trombetta and director Francesco Esposito in the staging of the children's operas that won ex-aequo in the national competitions held in those years; She recorded a CD of Patriotic Hymns for the then President of the Republic, Carlo Azelio Ciampi; she was present at the Tricolour celebrations at the Valli Theatre with actress Milena Vukotic; she took part in the European University Days at the Vatican in the presence of His Holiness John Paul II and Benedict XVI; she was choirmaster at the First National Execution of Salve Regina by Massimo Iamone. At the same time, she founded, promoted and took care of the White Voice Choir at the Istituto Superiore di Studi Musicali in Ravenna, participating with it in the Culture Weeks promoted by the National Museum and in numerous cultural activities in the city, collaborating with the youth orchestra Il Giardino dei Grilli in numerous events, staging, among others, with the Institute's orchestra, as conductor and director and as choirmaster alongside Maestro Emir Saul, Telemann's Der Schulmeister with baritone Maurizio Leoni, Virgilio Savona's Opera delle filastrocche, and Paul Hindemith's Costruiamo una città. Her intense activity, however, takes place mainly in the field of opera. In fact, she has been Artistic Director of the San Rocco Opera Chorale since 1992. With it, she has presented as 'Opera da Salotto' and in stage productions: Cenerentola, Elisir d'amore, Lucia di Lammermoor, Don Pasquale, Norma, Carmen, Traviata, Trovatore, Rigoletto, Un ballo in maschera, Attila, Nabucco, Cavalleria Rusticana, Pagliacci, Madama Butterfly, Boheme, Tosca, collaborating with numerous orchestras and conductors and also with the Italian Opera School of the Teatro Comunale di Bologna. She has successfully participated in international festivals in Paris, Prague (recording for the historic Czech Republic Radio), Toblach (Italy), Sparta (Greece), Vienna, Salzburg (Austria) and Munich (Germany). Since 2013, an annual appointment with the city of Bonn has also begun, for the World Migratory Bird Day organised by the Bonn Convention on Migratory Species and the African-Eurasian Waterbirds Agreement, under the patronage of the UN Environment Programme. Again with the Chorale, she has made forays outside the world of opera with interventions and arrangements in Iskra Menarini's CD Ossigeno, in which Gianni Morandi also participated, and other events with Iskra Menarini, Dodi Battaglia and Fio Zanotti. In his numerous performances, she has often flanked established singers and world-famous artists such as Ildebrando D'Arcangelo, Sonia Ganassi, Alberto Gazale, Antonello Palombi, Simone Alberghini, Giacomo Prestia, Maestro Leone Magiera, Maestro Isaac Karabtchevsky, Raina Kabaivanska, Nicola Martinucci, Vincenzo La Scola, Pietro Ballo, Bruno Praticò, Michele Pertusi and, in particular, Leo Nucci, with whom he boasts more than 20 years of collaboration and whom he has sang alongside, among others, in Traviata and Rigoletto.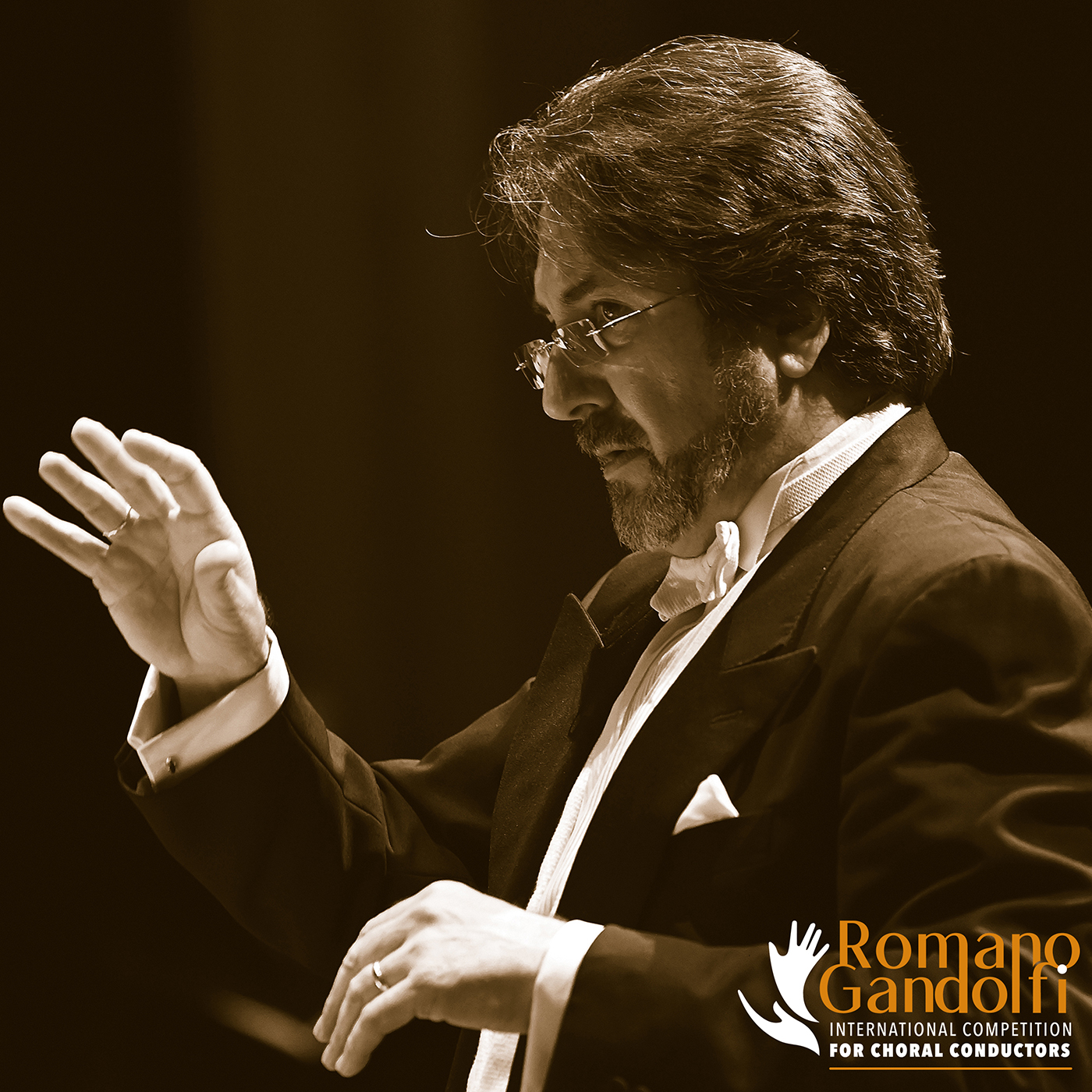 Walter Marzilli – Italy – Member of the Jury
Walter Marzilli – Italy – Member of the Jury
Walter Marzilli studied in Italy and Germany until his doctorate in Musicology. In Germany he also obtained a specialisation in conducting and further training in music pedagogy, musicology, Gregorian chant and choir conducting. He studied cello and specialised in Vocality.
He is a member of the Artistic Commissions of the Lazio Regional Choir Association and the Pontifical Institute of Sacred Music in Rome. He is Consiliarius of the Consociatio Internationalis Musicae Sacrae and a member of the board of Cultural Awareness Consulting, based in Germany. He is a member of the Scientific Committee of the Croatian Journal of Education. He was a member of the Scientific Committee of the F. Cilea Conservatory in Reggio Calabria and is currently a member of the Scientific Committee of the journal Vox Antiqua. He is deputy editor of the journal Choraliter (Feniarco) and a member of the editorial board of the Bollettino Ceciliano (Italian Association of S. Cecilia), and was for two terms a member of the Artistic Commission of the Tuscany Choir Association and of the National Artistic Commission of the FENIARCO. He is artistic director of the composition competition PuccinInsieme al Sommo Poeta. As musicologist and choir conductor, he has been invited to the United States, South Korea, Brazil, Lebanon, England, Spain, Portugal, France, Germany, Switzerland, Holland, Poland, Hungary. He is invited to hold Master Classes at important cultural institutions and universities in Italy and abroad (University of Notre Dame, Indiana-USA, University of Yonsei-South Korea, Institut Sainte Rafqa de Musique-Lebanon, Coro Culiacan-Mexico, Federazione Italiana Pueri Cantores, Conservatorio di Pesaro, Conservatorio di Novara, Conservatorio di Verona, Conservatorio di Reggio Calabria, Conservatorio di Palermo, Accademia Corale Teleion/Conservatorio di Mantova, Cappella Musicale di Modena, Fondazione Guido d'Arezzo, MENSA Italia… ), and is often invited on the jury of choral singing competitions in Italy and abroad, as a member and president of the jury. For many years, he has overseen the selection of voices for the Italian Youth Choir and the World Youth Choir. He has published numerous studies in conference proceedings and in specialist journals: Armonia di Voci, Arte e fede, Bollettino Ceciliano, Choraliter, Diapason, Farcoro, International Choral Bulletin, La Cartellina, Lo Spettacolo, Musicae Sacrae Ministerium, Polifonie, and has collaborated with the Istituto della Enciclopedia Italiana Treccani. He conducts the Polyphonic Choir of the Pontifical Institute of Sacred Music in Rome, the Ensemble I Cantori del Pontificio Istituto di Musica Sacra, I Madrigalisti di Magliano in Toscana and the 'Giacomo Puccini' Chorale of Grosseto. He has conducted the Ottetto Vocale Romano, the Quartetto Amaryllis and the Coro Regionale della Calabria. As a conductor, he has conducted the Orchestra Sinfonica di Bari, the Orchestra Sinfonica Romana, the Orchestra Sinfonica Città di Grosseto, the Orchestra of the Conservatorio S. Cecilia in Rome, the Orchestra Metamorfosi Musicali, the Orchestra Musicus Concentus formed by the musicians of the Orchestra Sinfonica di Roma, the Orchestra of the Pontifical Institute of Sacred Music, the Orchestra Concerto Málaga in various productions. He collaborates with the Schola Cantorum Coloniensis in Germany and other countries. He has conducted record and audiovisual recordings for Deutsche Grammophon, RAI, BMG-Ricordi, Radio Vaticana, Libreria Editrice Vaticana, Radio Classica, Westdeutscher Rundfunk, VM Records, Crisopoli Record Publisher, Fons Musicae, TelePace, TV2000, IMD Music & Web, Spona Classic Zagreb and various internet sites. He is an artistic consultant for the Deutsche Grammophon record label, for which he has also edited and transcribed ancient music for the Sistine Chapel choir recordings for many years. He has collaborated regularly with the Cappella Musicale Pontificia 'Sistina', and is conductor of the Ensemble Octoclaves of the Sistine Chapel, with whom he has recorded a CD with music in first performance. He teaches Choir Direction at the University of Notre Dame in South Bend, Indiana-USA, and has taught Choir Direction at the Conservatorio G. Cantelli in Novara. He teaches Psychoacoustics at the Centro Mediterraneo di Arti-Terapia, Master in Music Therapy, and has taught Choral Vocality at the Conservatorio F. Cilea in Reggio Calabria. He is a singing teacher at the Sedes Sapientiae International College of the University of the Holy Cross in Rome, where he is also director of the Music Department, and has taught at the Pontifical French Seminary, the Pontifical Spanish College and the Italian Academy of Lyric Opera. He directed the Italian Centre for Music Pedagogy of the Ward Method. He teaches at the Scuola Superiore per Direttori di Coro della Fondazione Guido d'Arezzo. He teaches Choir Direction at the S. Cecilia Diocesan School in Brescia. Since 1987 he has taught Vocality and Choir Conducting for the Italian Association S. Cecilia. Since 1991 he has held the chair of Choir Direction at the Pontifical Institute of Sacred Music in Rome.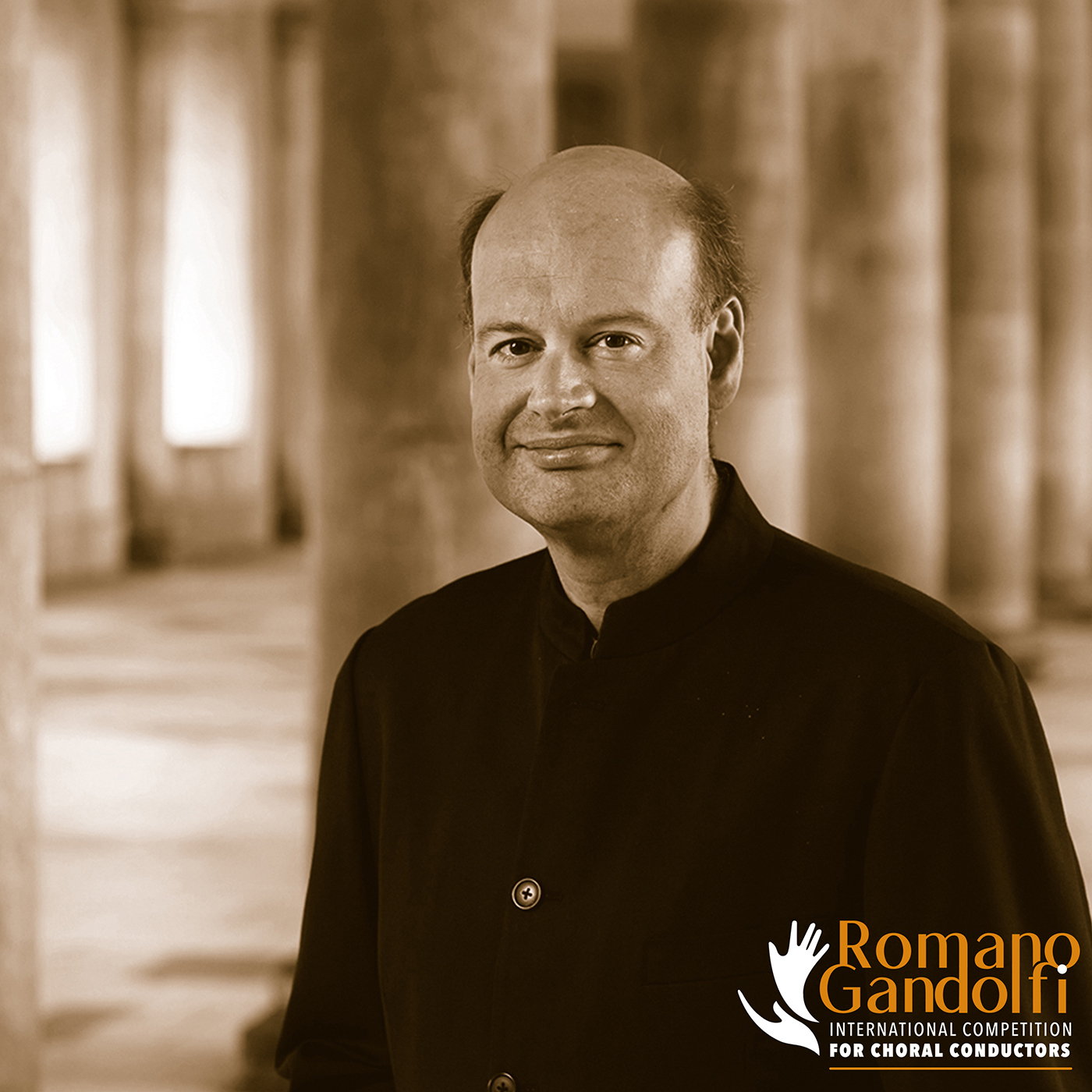 Stephen Layton – United Kingdom – Member of the Jury
Stephen Layton – United Kingdom – Member of the Jury
Awarded with an MBE for services to classical music in October 2020, Stephen Layton is one of the most sought-after conductors of his generation, whose ground-breaking approach has had a profound influence on choral music over the last 30 years. Often described as the finest exponent of choral music in the world today, Layton is regularly invited to work with the world's leading choirs, orchestras and composers. His interpretations have been heard from Sydney Opera House to the Concertgebouw, from Tallinn to São Paolo, and his recordings have won or been nominated for every major international recording award. He has two Gramophone Awards and a further ten nominations, five Grammy nominations, the Diapason d'Or de l'Année in France, the Echo Klassik award in Germany, the Spanish CD compact award, and Australia's Limelight Recording of the Year.
Founder and Director of Polyphony, and Director of Holst Singers, Layton has recently announced he is to step down as Fellow and Director of Music at Trinity College Cambridge in the summer of 2023. His former posts include Chief Conductor of Netherlands Chamber Choir, Chief Guest Conductor of Danish National Vocal Ensemble, Artistic Director and Principal Conductor of City of London Sinfonia, and Director of Music at the Temple Church, London.
Layton is constantly in demand to premiere new works by the greatest established and emerging composers of our age. A longstanding partnership with Arvo Pärt has resulted in premiere performances and award-winning recordings, including three discs with Polyphony on Hyperion. With the late Sir John Tavener, premieres include Layton's bold realisation of his epic seven-hour vigil The Veil of the Temple, a new departure in British choral music. Passionate in his exploration of new music, Layton has introduced a vast range of new choral works to the UK and the rest of the world, transforming the music into some of the most widely performed today. His long association with music from the Baltic includes acclaimed recordings of works by Eriks Ešenvalds, UģisPrauliņš and Veljo Tormis. His captivating discs, with Polyphony, of the American Morten Lauridsen's Lux aeterna and Eric Whitacre's Cloudburst were nominated for Grammy Awards, with Cloudburst spending a year in the USA's Billboard Classical Album Chart. On the Deutsche Grammophon label, Layton and Polyphony recently recorded a disc of Karl Jenkins' Motets which entered the Classical Artist Albums Chart at No. 1 during the week of its release, and on Decca they recorded Karl Jenkins' Miserere with the Britten Sinfonia.
Layton's recordings have consistently broken new ground, creating a new sound world in British choral music that continues to influence and inform conductors and choirs throughout the world. Award-winning discs with Polyphony include Britten's Sacred and Profane, James MacMillan's Seven Last Words from the Cross and Poulenc's Gloria. In a recent Gramophone critics' poll of the world's 20 greatest choirs, not only was Polyphony voted second finest, but The Choir of Trinity College Cambridge also made it into the top five: confounding expectation, Layton had led a student choir into the highest ranks. Now the choir tours at the highest international level and records prolifically, recently receiving a Gramophone award, a Grammy nomination, and Australia's Limelight Recording of the Year.
Layton guest-conducts widely, working with and inspiring the world's finest choirs and orchestras: Netherlands Chamber Choir; Danish National Vocal Ensemble; SWR Vokalensemble, MDR Leipzig and NDR Hamburg Radio Choirs in Germany; Latvian State and Radio Choirs, Estonian Philharmonic Chamber Choir, and Voces Musicales in the Baltic; Polish Radio, NFM, and Wroclaw Philharmonic Choirs; Slovenian Philharmonic Choir; Eric Ericsson Chamber Choir, Stockholm; Die Konzertisten, Hong Kong; and the inaugural concert of Yale Center for Music and Liturgy at Carnegie Hall. With Britten Sinfonia, his eight highly acclaimed recordings include Handel's Messiah ("Best Messiah recording" – BBC Music Magazine); with City of London Sinfonia (where Layton succeeded Richard Hickox as Artistic Director and Principal Conductor), tours included Latin America and premieres uniting cathedral choristers across Britain; and with Orchestra of the Age of Enlightenment he has recorded Bach's Christmas Oratorio, B Minor Mass and St John Passion.
Layton's interpretations of Bach and Handel have been heard with orchestras ranging from Academy of Ancient Music to the London Philharmonic and Philadelphia orchestras. Performances include Messiah in Sydney Opera House, the first staged St John Passion with English National Opera, and regular BBC broadcasts. He has worked with London Sinfonietta; BBC National Orchestra of Wales; Opera North; Scottish and Australian chamber orchestras; Auckland Philharmonia; Seattle, Queensland, Melbourne, Adelaide and West Australian symphony orchestras; and Minnesota, Royal Liverpool Philharmonic, Royal Scottish National and Hallé orchestras. Layton is also Artistic Director of the Annual Christmas Festival at St John's Smith Square.
Layton continues to innovate, taking bold and original steps, and leading the way in the use of new technologies in choral music. Everything sung by The Choir of Trinity College Cambridge is webcast live and available to listen again online. Layton was the first in the world to webcast every single note sung in this way, laying bare the music-making without any digital editing. This searchable archive of over 4,000 musical tracks recorded live forms an invaluable resource for listeners around the world and forms a major part of his legacy to the Choir.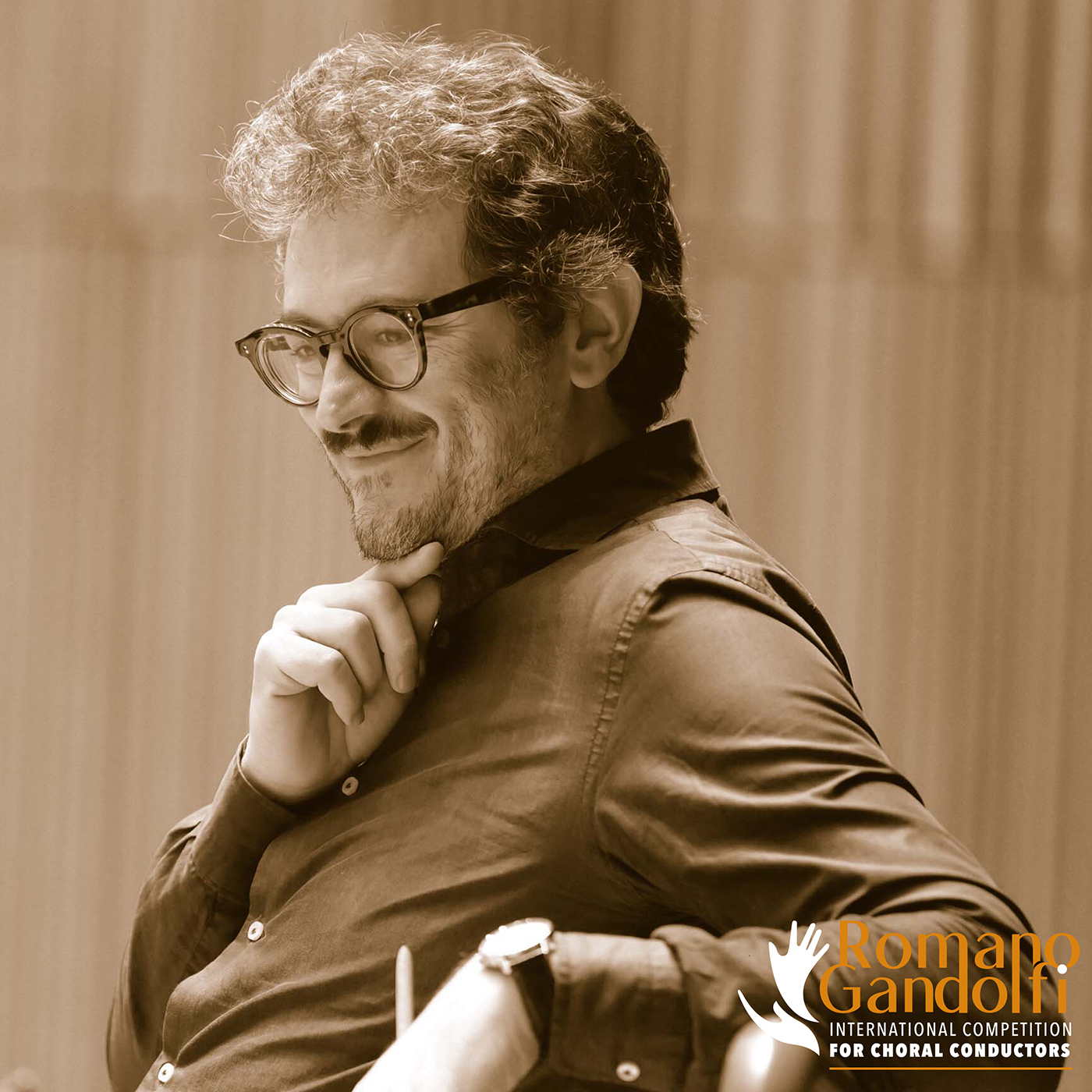 Sebastiano Rolli – Italy – Member of the Jury 
Sebastiano Rolli – Italy – Member of the Jury
Sebastiano Rolli began his musical studies at a very young age with his father, who was a choir director. After studying chamber music and composition at the Conservatories of Parma and Milan, he devoted himself to an in-depth study of Verdi's musical dramaturgy in its stylistic aspects concerning performance practice under the guidance of scholars of the calibre of Marcello Conati and Pierluigi Petrobelli. Among his numerous publications are two critical studies on: "Giuseppe Verdi. I maestri del melodramma" and 'Giuseppe Di Stefano. I suoi personaggi" for 'Azzali Editori'. He is regularly invited by international music institutions (including the 'Mythos' courses of the 'Fondazione Arturo Toscanini' and 'Fondazione Teatro Alla Scala' in Milan) and conservatories to hold master classes on the interpretation of Italian melodrama. In recent years, DVDs of operas by Donizetti and Bellini directed by him have been released in modern premiere conducted on critical editions: Maria di Rudenz, Torquato Tasso, Rosmonda d'Inghilterra by Gaetano Donizetti (for Bongiovanni and Dynamic); La straniera by Bellini (Bongiovanni). It was his in-depth study of the language of 19th-century Italian melodrama that prompted him to embark on a career as a conductor, which led him to conduct important Italian and international orchestras in both the operatic and symphonic repertoire. In recent years he has started collaborations with many theatres conducting Verdi titles such as: Il Trovatore, La Traviata, Rigoletto, Aida, Attila, Nabucco, Messa da requiem, I quattro pezzi sacri, Macbeth, Un ballo in maschera, Falstaff (some of which have been released on CD). In past seasons he has directed productions of Macbeth and I puritani at the Slovak National Opera in Bratislava; Maria Stuarda at the Teatro Sociale di Rovigo, for the Fondazione Arena di Verona and at the Donizetti di Bergamo where he returned for Il Trovatore, Torquato Tasso, Maria di Rudenz, Rosmonda d'Inghilterra. He starred in a belcanto tour with Juan Diego Florez at the Concert Hall in Dublin, the RTÉ National Symphony Orchestra, the National Auditorium in Mexico City and Lima, the National Radio in Bratislava and the Alhambra Festival in Granada. This was followed by: Anna Bolena and Norma at the Tenerife Opera; Fauré's Requiem, Verdi's Four Sacred Pieces and Die Lustige Witwe at the Cagliari Lirico; Il tabarro, Suor Angelica, Gianni Schicchi and Il trovatore at the Tirana Opera; La Cenerentola and Pierino e il lupo for the Fondazione Arena di Verona in collaboration with L'Accademia della Scala; Lucia di Lammermoor at the Regio di Parma, Savona; La Sonnambula and La straniera at the Massimo Bellini Festival Bellini in Catania. His collaboration with the Teatro del Maggio Musicale Fiorentino has been very intense in recent years: La traviata, Rosmonda d'Inghilterra, La sonnambula and a tour in Muscat in Oman with L'italiana in Algeri and Il barbiere di Siviglia. With the Teatro Regio di Parma he has conducted at the Verdi Festival: Falstaff for Verdi's bicentenary in 2013 in collaboration with La Scala in Milan, La traviata in collaboration with the Comunale di Bologna (in co-production with the Teatro lirico di Bolzano); Il Trovatore and a gala concert for the 2022 edition, in the opera seasons of the Regio instead he has conducted Lucia di Lammermoor, Roberto Devereux and Un ballo in maschera; Rossini's Petite Messe Solemnelle and Giuseppe Verdi's Messa da requiem. In the most recent period, he has collaborated with the Tel Aviv Opera for Nabucco; with the Fondazione Rete lirica delle Marche for Il trovatore and on Giovedì Grasso with the Teatro lirico di Sassari for Cavalleria rusticana and I pagliacci (broadcast on the Sky classica network); with the Nouvelle Opera de Fribourg for Il barbiere di Siviglia and Don Pasquale with the Opéra di Dijon for Macbeth; with the Fenice di Venezia for I lombardi alla prima crociata and with the Cartagena musica festival where he conducted a series of concerts.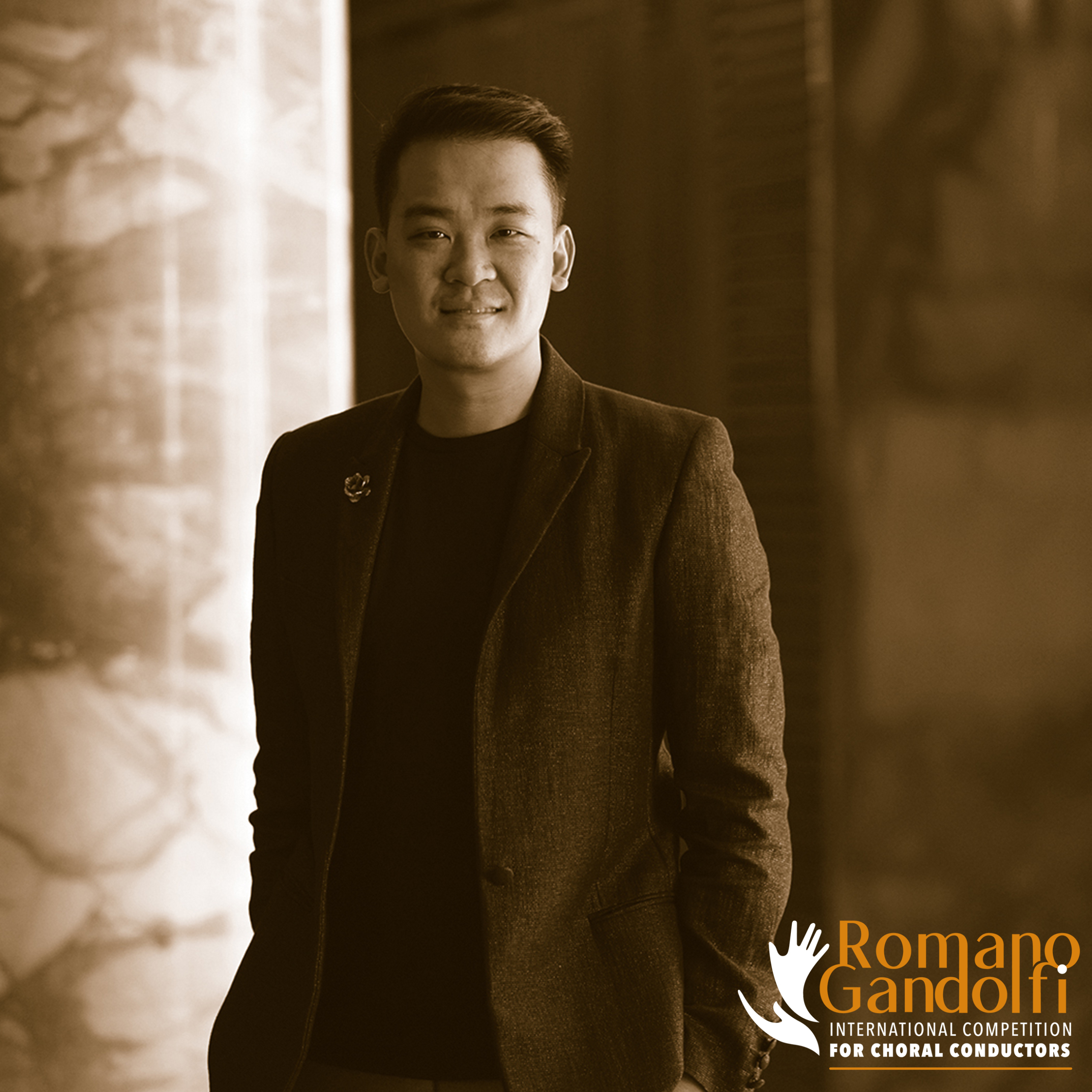 Darius Lim – Singapore – Member of the Jury
Darius Lim – Singapore – Member of the Jury
Darius Lim is a Singaporean Conductor-Composer renowned for his visionary approach to choral music. As the Founding Artistic Director & Principal Conductor of the Voices of Singapore, Darius has transformed the Singaporean choral music landscape, blending lyrical, dramatic, instrumental, and theatrical elements into his compositions and performances. He is recognized worldwide as an advocate for choral music, inspiring, engaging, educating, and entertaining audiences globally. Amidst his international conducting work, he has taught choral conducting at the Yong Siew Toh Conservatory of Music and School of the Arts Singapore. Darius's choral music has inspired thousands of singers around the world, and his compositions have been performed by world-renowned ensembles such as Voces8, The Hong Kong Philharmonic Orchestra, and the National Youth Choirs of Great Britain. He has been commissioned on numerous national and global platforms and has adjudicated international festivals. In 2023, Darius was the commissioned composer of the World Symposium on Choral Music in Istanbul, the Conductor and Composer-in-Residence for National Concerts at Carnegie Hall, and the set piece composer for the European Piano & Choral Olympics. Darius holds several positions in the local and global music scene, including CEO of The Voice Company, Board Member of the International Federation on Choral Music (IFCM), Council Member in the Asia Pacific Choral Council, and Board Chairman of the World Alliance of Children's Choirs. Former roles include the President of Choral Directors Association Singapore and Associate  Choirmaster of the Singapore Symphony Children's Choir. Darius's impact on the music industry has not gone unnoticed, and in 2021 he was invited by TEDx to present "The Voices of Singapore – Strengthening a Nation Through Choral Singing".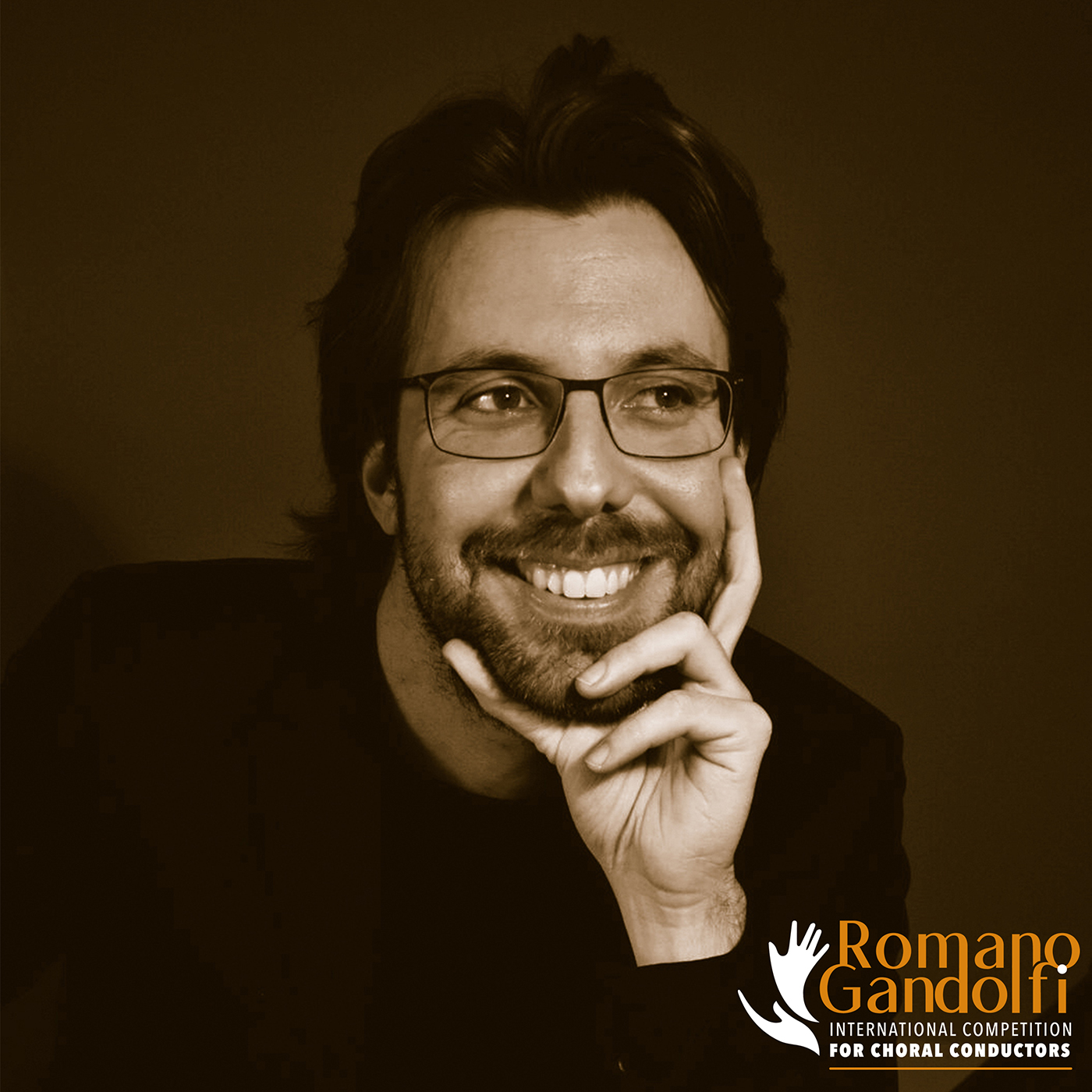 Luca Scaccabarozzi – Italy – Member of the Jury  
Luca Scaccabarozzi – Italy – Member of the Jury
Born in 1983, he has been awarded best conductor in several choral competitions and won first prize at the 'Romano Gandolfi' International Competition for Choral Conductors in Parma in 2021. He has also won national and international first prizes for conducting choral ensembles including the Ensemble Vocale Mousiké and the Torino Vocalensemble. He collaborates as choirmaster with the Ensemble LaBarocca of Milan and has worked with the Choir of the Milan Symphony Orchestra and the Ars Cantica choir. With these ensembles he has been invited to participate in important national and international festivals including the Stresa Festival, the Festival di Musica Antica di Monreale and MITO Settembre Musica. He is the founder and conductor of the Zephyrus choir, directs the Regina del Rosario choir in Arcore and the Le Dissonanze choir in Monza, and is invited as guest conductor collaborating with choral and orchestral ensembles throughout Italy. He graduated with honours in piano at the Conservatorio G. Verdi in Milan in the class of Cristina Carini, Paolo Bordoni and Silvia Rumi, and perfected his musical skills at the Accademia musicale di Firenze with Pier Narciso Masi and at numerous masterclasses held by prestigious teachers. He has won first and second prizes in national and international piano competitions, both as soloist and chamber musician. He also graduated with honours in philosophy from the State University of Milan. He trained as a choral conductor at the Milano Choral Academy and obtained a Master'sdegree in choral conducting at the Scuola superiore per direttori di coro di Arezzo, studying with Nicole Corti, Ragnar Rasmussen, Gary Graden, Peter Broadbent, Javier Busto, Lorenzo Donati and Luigi Marzola. He also studied Renaissance polyphony at the Scuola Civica di Milano with Diego Fratelli and obtained a second level academic diploma in Choir Direction and Choral Composition with top marks at the Conservatorio A. Steffani in Castelfranco Veneto in the class of Marco Berrini. She has attended various singing and vocal courses with Colin Baldy, Marco Scavazza, Lia Serafini, Sara Mingardo, Dan Shen, Fulvio Bettini, Roberta Invernizzi and Monica Scifo and has collaborated as a singer with various professional ensembles and groups including Il Canto di Orfeo, LaBarocca, Ars Cantica Choir, Gesualdo Consort of Gesualdo, Ensemble Vocale UT, La Rosa dei Venti, Aletheia Consort. With Il canto di Orfeo he sang in the most important European theatres on tour with Cecilia Bartoli and during the Salzburg Festival. He performs intensively as a teacher of piano, choral vocals and choir conducting at various music schools and has taught at prestigious conducting academies including the Milano Choral Academy, the Arezzo School for Choir Directors and the Accademia Righele. He frequently holds master classes and seminars for choristers and conductors and is also invited to participate as a juror in national and international choral competitions.